What Actors and Directors Say About Working With Mark Travis
Inside The Travis Technique: Actors Rob Scattergood and Corinne Shor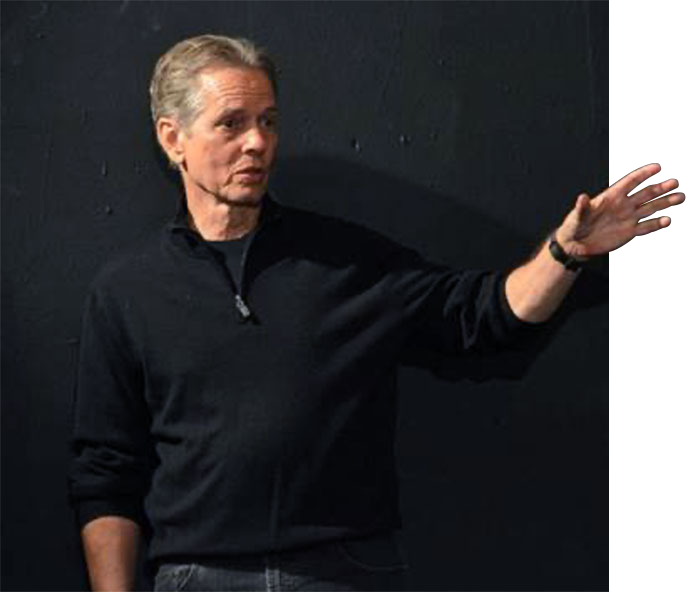 Mark W. Travis, the founder of the revolutionary Travis Technique, teaches directors how to direct the character, not the actor, and create instantaneous and authentic performances that translate brilliantly onto the screen.
Winner of over 30 directorial awards, Mark Travis has taught his radical approach to directors, actors, and writers in over 50 film schools and film organizations around the world. His workshops, masterclasses, and consultations focus on all stages of filmmaking from pre-production to production and post-production.
"I love working with Mark so much that I don't ever want it to end. The Directors' Lab was an extraordinary experience. Both Mark and Elsha teach the finer points of making films and working with actors, as well as about life and the power of knowing yourself. Mark is like a caring father to those studying with him. I highly recommend every director and screenwriter to go on a learning trip with Mark. It will be deeply rewarding."
~ Anna Ditges, Director/Writer, Wem gehört die Stadt – Bürger in Bewegung and ICH WILL DICH – Begegnungen mit Hilde Domin
"Mark Travis is a genius and it was so interesting to watch him work. I have been his biggest fan since I apprenticed at Theatre West back in 1991-1992 and then when A Bronx Tale came out, I nearly lost my mind. Wow."
~ Cooper Bates, Performer/Writer, Black When I Was a Boy, Son of a Man
"Mark Travis' Interrogation Technique is not only the finest gift ever given to me by another director, it's one of the finest gifts anyone has given me – ever!"
~ Jon Amiel, Director, nominated for BAFTA Award, The Singing Detective, Sommersby, Copycat, Entrapment
"Mark Travis sure can teach. Don't know why he's not running the TV directing world"
~ Paris Barclay, Emmy Award winner, Writer/Director/Producer, over 155 TV episodes
"Mark, you are a psychological specialist for directing. You are working with actors on the details, on subtext. Nothing is black or white. Musically, nothing is major, nothing is minor. There is a whole world in-between. The infinity between 0 and 1. You are a fascinating creator."
~ Kolja Erdmann, director and film score composer
"The first thing I do when prepping a new film is call Mark Travis and begin the workshopping and consulting process that allows me to get inside the film and work my way out. It's a great process that I highly recommend for any director. It's about giving a fellow director the license to challenge you at every turn, and find the rich dramatic material within — and in the end a better film. Mark Travis is the only practical teacher of directing I've ever met. Simply the best, I learned more from him than I did in four years of film school."
~ Cyrus Nowrasteh, Writer-Director, Infidel, The Young Messiah, The Stoning of Soraya M., The Day Reagan Was Shot
"I have admired Mark Travis' work with actors for many years."
~ Beau Bridges, Golden Globe & Emmy Award-Winning Actor
"I've been an actor for almost 60 years, worked with many directors: Josh Logan, Sidney Pollack, Robert Altman, Stuart Rosenberg, Sidney Fury, and many others. Mark Travis has directed me in several projects and he is far and away my favorite director."
~ Cal Bartlett, Actor
"Mark Travis helped me discover a lot of hidden secrets of my profession. Thanks to his help and passion, I've been working successfully as a director for feature films in Germany."
~ Hansjoerg Thum, Director, Writer, Cinematographer, Ein Fissh Namens Liebe, Die Ketzer Braut, Einfach Rosa: Verliebt, Verlobt, Verboten
"With astonishing clarity, Mark Travis articulates the techniques and skills of film directing. Not only does the beginning student find invaluable guidance on all stages of the directing process, but the experienced director will learn rational explanations for many of the things he may have only been doing intuitively."
~ John Badham, Director, Saturday Night Fever, War Games, Blue Thunder
"I attended one of Mark's workshops and picked up a directing technique I was able to successfully use a week later. His approach is unique and I'm ready to learn more!"
~ Randal Kleiser, director, Grease, The Blue Lagoon, The Boy in the Plastic Bubble
"Mark understands that the director is quintessentially a storyteller. He knows what it takes to shape a compelling film."
~ George Tillman, Jr., Director, Producer, The Hate You Give, Soul Food, Men of Honor, Barbershop
"If it wasn't for the creative genius of Mark Travis, A Bronx Tale would never exist."
~ Chazz Palminteri, Actor
"I have enjoyed working with Mark Travis. The way he questions things triggers your imagination. He has helped me to be better prepared for production. I highly recommend directors to spend time in pre and post-production with Mark. It may cost you a little in the beginning but will save you a lot in the end."
~ Diego Silva Acevedo, Writer-Director, Winner of 5 Emmy-Southeast Awards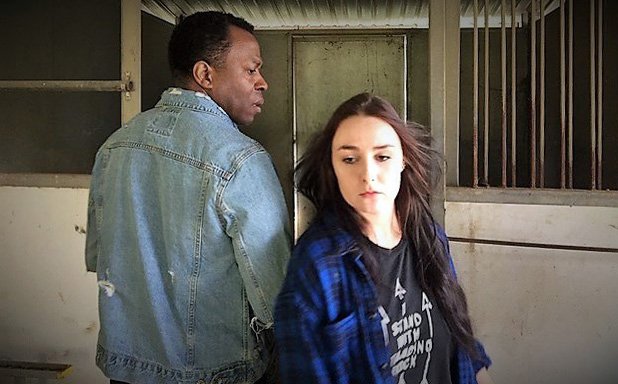 Actors Dwayne Barnes and Mary Somers rehearsing a scene from Siblings
"Mark Travis has been the launch pad of my solo career. He is a real hero of mine. He made me not only a better writer and performer, but also a better audience member when I sit and listen to other stories. With over 270 Mister Fry shows and counting, that would never have been possible without learning from Mark."
~ Jack Fry, Playwright, Actor, They Call Me Mr. Fry
"Mark's methods have transformed the way I look at directing."
~ Yule Caise, Director, Actor, Recess, Boys Night Out, Doctor Dolittle
"What Mark Travis teaches should be standard among directors and storytellers alike."
~ Lisa Strauss, Director, Queen of Heaven, Etienne!, Salad Days
"By far the best directing workshop experience that I have ever had. A complete revelation and the inspiration that all directors and actors should find out about. Mark's constant level of energy, focus, innovation and stream of consciousness is something to behold. His level of experience, techniques and interaction with people is extraordinary. And his humility and openness are a breath of fresh air for those stuck on the merry-go-round of countless filmmaking manuals, courses and webinars."
~ James Lingwood, Producer/Director, Great Southern Ark Productions
"Mark's ability to convey a process of achieving deep, truthful work from actors is unparalleled. His approach is unique. The results are amazing and immediate."
~ Alan Watt, Writer/Director/Producer, Interior Night
"I had the privilege of studying with Mark Travis, who teaches wondrous techniques to employ in writing and performing one-women shows. Knowing these techniques has made performing a one-woman show fun to do."
~ Jeannette Paulson Hereniko, Producer The Land Has Eyes, Writer/Performer, Wild Wisdom, and When Starngers Meet.
"Every minute of that tremendous week was enlightening, exciting, enthralling! Mark taught us, challenged, praised, stretched, and inspired us. His expertise added greater depth and beauty to my scenes. I left that training room more confident, more empowered, and more in love with filmmaking than ever!"
~ Fiona Ashe, Film/Television Director, and Screenwriter, Cracks in the Ice
"Not only in my daily job but in my daily life, even in the most ordinary or little things, I'm happily grateful for how important and privileged it is to have a real, great mentor in my life."
~ Eduardo Said, Director, La rosa de Guadalupe (90 episodes), Sin tu mirada (30 episodes), Mi adorable maldición (102 episodes), Simply María (127 episodes), A Shelter for Love (165 episodes), Bajo las riendas del amor (149 episodes).
"One of the reasons I wanted to make my film, Perfection, was to use and experience The Travis Technique. With only two and a half days of production, a very small crew, and almost no budget, the technique was paramount. I worked with the actors using Mark Travis' Interrogation Technique and they loved it! I got all the different variations of their performance in very few shots. No extra shots needed, no extra action. The playfulness of Mark's technique takes away stress and fear. Even 'mistakes' can be used. Mark's Technique is a master tool to get good performances from actors and directors."
~ Benedikt Röskau, Writer/Director, Perfection (2014)
"It's rare to find people like Mark who are consummate professionals, but more importantly, in possession of social and emotional intelligence."
~ Noel Qualter, Director, That Time of Year, Undertow
"Mark is a remarkable teacher — knowledgeable, warm, encouraging, passionate, personable, authentic. I drove all the way from San Diego back and forth to see him and to learn from him how to begin writing my solo show and I ended up with a hit show I've toured globally ever since."
~ Patrick Combs, Actor, Writer, Producer, Man 1 Bank 0, Reality Round-Up: Superhero Edition
"Mark Travis' brilliant insight into how the director can draw great, natural performances from his or her actors, widely known as the Travis Technique, is an absolute must for every professional and up-and-coming director, actor, and writer. I highly recommend it."
~ James Bonnet, author of Stealing Fire from the Gods: The Complete Guide to Story for Writers and Filmmakers.
Mark Travis working with actors at Griffith Film School, Brisbane, Australia.
"I made a common mistake thinking I knew my own script simply because I wrote it. Working with Mark forces you to go much deeper than the simple text on the page. Without this sort of work, you're winging it without even knowing it."
~ Brad Gann, Writer/Director, Static, Invincible, Black Irish, Once Was Lost
"Mark Travis is part wizard, skilled writer/director/teacher, adept study of human nature, and part rascal with a very good heart. His unflappable attention and incisive questions make way for the magic to happen. I have learned so much and am still enjoying the ride.
~ Susan Killeen, Writer, Goodbye Paradise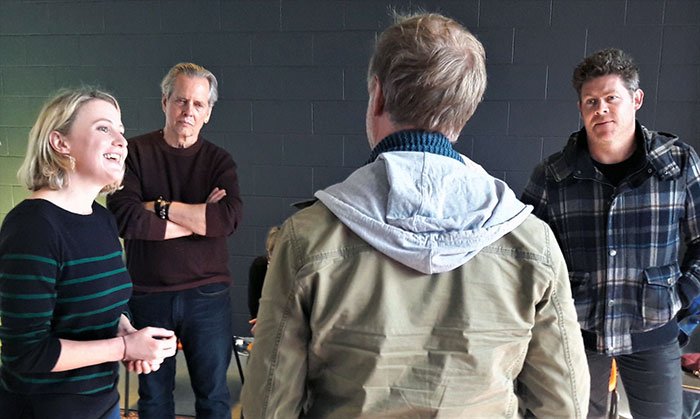 Mark Travis working with directors and actors at the New Zealand Directors & Editors Guild in Auckland
"The Travis Technique is one of the most powerful and easily adaptable methods to immediately work with an actor that I have ever seen."
~ Maury Rogow, President, Producer at RipMedia Group
"I had the extreme good fortune to work under the direction of Mark Travis. I must extol his incredible technique! He is BRILLIANT!"
~ Lee Meriwether, Actor
"There's magic in the room when Mark Travis works with actors. I was riveted."
~ Kim Adelman, Author, Making it Big in Shorts
"My real writing began after working with Mark. He gave me a safe space, to tell the truth."
~ Alice Manning, Writer, Actress, Storyteller
"Mark identifies the spine of a writer's work fast. He asks all the right questions to get a writer to understand what they are trying to say quickly and help writers uncover their hidden story."
~ Michael Rayor, Actor & Author of Who is Lloyd Stearn?
"It's fascinating to watch Mark Travis wield his technique with actors and non-actors alike. Even more fascinating was to be directed by him. He talked through me to the character he helped me inhabit. It was as if he confidently guided me out of my own monkey mind, insecurities, and over-analysis through to an into-character experience."
~ Heather Hale, Producer, Writer, Performer
"If you are a writer and you want to ensure that your script is compelling enough to attract the best directors, actors, and producers you MUST consult with Mark. He brought my script to an entirely new level."
~ Donna Sozio, Bestselling Author, The Man Whisperer
"The directing techniques Mark Travis uses with actors to connect them makes the scene work every time. He gets to the heart of the scene and quickly. Working with Mark always astounded me because of the places reached that I would not even imagine possible. The best!"
~ Ashley F. Brooks, Actor and Writer
"Mark Travis is the ultimate in getting stellar performances from actors."
~ Devorah Cutler-Rubenstein, President, Noble House Entertainment, Inc., CEO, The Script Broker ®
"Mark is all about the story. His insights and techniques help everyone: directors, actors, writers, and designers get at the meat of what storytelling is. This is what sets him apart."
~ Jeff G. Rack, Director and Storyteller
"For me this technique is about the end of 'acting' and finally learning how to be a character!"
~ Tinka Kleffner, Actor
"Working with Mark Travis has been the most truly pivotal experience for me as a writer, director and actor. His incredible understanding of the human condition and how to effectively bring an actor to their truest and fullest performance with his Technique is truly astounding and groundbreaking. And his ability to teach directors how to do this as well is phenomenal. He cracked open everything for me from the first moment I met him as a student and heard him speak 12 years ago and through working with him as a director and actor. I really cannot express his brilliance in words. You MUST experience it!"
~ Tina Cardinale, Director, Actor
"I worked with Mark Travis at the Cannes Film Festival giving directing workshops for advanced student filmmakers. Mark is a true professional who knows his craft and is able to teach and inspire with great effectiveness."
~ John Mason, Kodak
"Mark has been one of the most inspiring mentors and facilitators I have had in my career. He has been crucial at opening a whole world of possibilities and tools for me as a director."
~ Rodrigo Bellott, Filmmaker / Storyteller
"I was immediately able to apply the principles learned in his class when I began to direct!" 
~ Jonathan Pontell, Co-Executive Producer/Director, Ally Mcbeal, Chicago Hope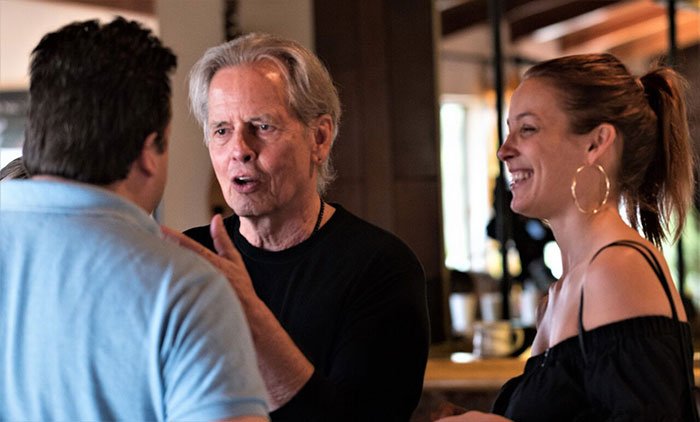 Mark Travis with director David Bertran and actor Katie Adler
"When it comes to acting techniques, this [Interrogation Process] is the first thing I've ever truly understood. It just makes sense."
~ Audrey Alexander, Director, Actor
"I feel more connected to what my character is feeling. I'm not just doing my lines."
~ Matt McInally, Actor
"These classes have been eye-openers for me and have ignited a new spark. Mark's technique along with the (at times) 'scary' exercises from Elsha – are allowing me to dig the scalpel deeper and move on past the surface of Directing & Storytelling."
~ Carl Flood, Writer, Director
"Words cannot express the transformation in my life. Thank you, thank you, thank you! You have given me a fresh start."
~ Richard Lamont, Actor
"The suggestions I received from Mark and Elsha were well thought out and deeply considered. They recognised the elements that I had been struggling with most. Having them apply the interrogation technique to my lead characters was incredibly helpful. The breakthroughs I have had as a result of our session have taken me to a level of truth I never imagined, and I've been writing nonstop ever since."
~ Christopher Slater, Writer, Producer, Director
"Thank you both so much for your incredible and insightful workshop. It was honestly hands down the best workshop I've ever been too. A perfect balance of engaging and entertaining – I loved every second of it. Your lessons have proven invaluable already and I can only imagine what we could do together in the future. Mark and Elsha, to be frank, you're both goddamn genius! I really mean it."
~ Richard Mildren, Writer, Producer, Director
"Mark Travis works magic. He taps into an aliveness and truth that brings our work to nothing less than compelling."
~ Karen Cuthbert, Actor
"Mark Travis is living proof that the so-called mystery of directing CAN be taught."
~ Olaug Spissey Kyvik, Director, Writer, Cinematographer, Granny Squatters, Dirty Orange, Listen Sasha
"I am so glad and happy to have met and worked with Mark, so endlessly thankful. Every time I have the pleasure to work with actors – to see how smooth and natural you can get what you have imagined while writing the script – this is all thanks to Mark and his great technique."
~ Anca Lazarescu, Director, The Secret of Deva, Die Reise Mit Vater
"Mark Travis is a fountain of knowledge with the curiosity of a child. He is revolutionizing an art that I hold so dear. Mark has made me – and continues to make me – a better artist, storyteller, actor, man and friend."
~ Ron Sequeira, Actor, Producer, Debris, Deathdate
"Mark and Elsha have been the best Griffith Film School course BY FAR!!!! Everything else is pretty average. Boring, to be honest."
~ Nina Rath, Director, Editor
"Mark said the things I always wanted to hear as an actress and taught me things I needed to know to be a director."
~ Jennie Garth, Actress-Producer-Director
"With the Travis Technique, right off the bat, you start working from yourself. You're not grabbing the character out of thin air."
~ Katie Adler, Actor
"Now I understand that for the character to emerge truly and organically, the character needs to be destabilized. And that's what the Interrogation Process does. You find the character that is already residing in your heart. You need to create nothing – you release."
~ Corinne Shor, Actor
"I always walk away from Travis seminars frustratingly happy – knowing more than when I arrived and knowing I know less than I want to by the time I leave!"
~ Matt Ritchey, Director/Actor
"I don't think many people understand the importance of chaos for the performer. They think it's a bad thing rather than the only way to truly free the character from the trappings of the performer. I know when Mark put me into that chaotic state and then enabled me to achieve that moment of Zen where I released the trappings of my own persona and became the character. It's like what Meister Eckhart said, The only thing that burns in Hell is the part of you that won't let go of your life; your memories, your attachments. They burn them all away. But they're not punishing you. They're freeing your soul. The technique burns away all the trappings of the performer and frees the character."
~ Nelson Torres, Director, Editor, Actor
"There aren't many people that you meet in life that have the capacity to change your perceptions of reality to such a high degree. I know I will forever look upon these last two weeks and think of how lucky I am to have met the two of you. The presence you both share just simply makes me smile. Thank you, Mark and Elsha."
~ John Grabs, Actor
"Mark and Elsha, you are the most incredible couple I've ever had the pleasure of meeting. My directing, writing, acting and LIFE is so much richer for the knowledge you have both passed on to me. I believe in the Travis Technique 100%!
~ Gabrielle Kempe, Writer, Actor, Director, Push.
"When I first moved to Los Angeles and wanted to direct movies, someone told me, 'If you want to learn directing, you gotta go to Mark Travis.' I did and learned so many things. The main thing I learned is to always be kind. Not just with the actors, but with everyone. The best art tends to happen when we feel safe enough to take risks. I am so grateful for the lessons I learned from Mark."
~ Alan Watt, Writer, Director, Producer, Interior Night
"Mark's approach, his way of listening… seriously refreshed me. The tools he gave us are so tactile. For the first time I felt I was driving the car. It was pure joy! Mark is a legend in what he does. He made me a better actress, a better writer, a better person and a lot more Me than I have ever been."
~ Cheryl Asruf, Actor
"It was at the DGA seminar when I was first exposed to the ever-seductive clip and pause part of the Travis Technique. For me it was a holy shit moment. I thought, 'This is a great little tool which I could use. This afternoon! I'd love to learn more about what this Travis guy is teaching.' I took the next workshop and that's how I became a fan for life."
~ Sean Cunningham, Producer, Friday the 13th, The Nurse with the Purple Hair, Debris
"Mark, all of us will sorely miss the both of you, the raw truth of life, the personal candour and a seriously endearing humour, especially the playing off of each other as you and Elsha do. I know it is a cliche but it is true, I really feel I have been taught at the feet of greatness."
~ Patrick Evans, Writer, Director
Locations
Honolulu, Hawaii
Los Angeles, California
Prague, Czech Republic
Cologne, Germany
Auckland, New Zealand