Artist – Poet – Creativity Coach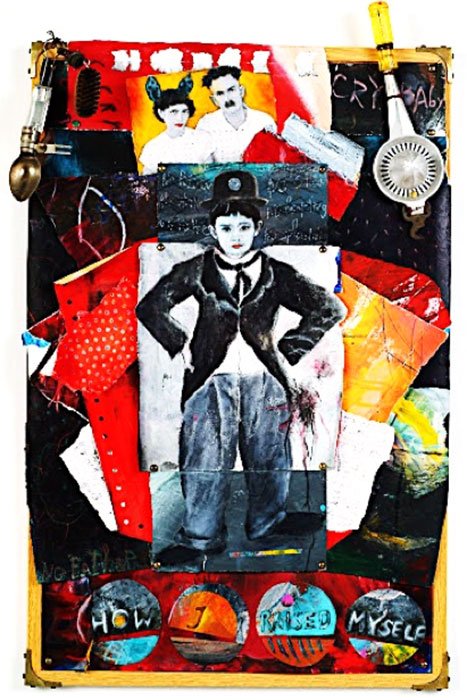 Elsha Taya Travis, How I Raised Myself (2007)
Collage, acrylics and found objects on framed cardboard
Elsha Taya Travis is an award-winning poet and mixed media artist, known for incorporating machine parts, toys, rags, and other found objects in her multi-dimensional, multi-layered works. Her art has been exhibited internationally and can be found in private collections worldwide. Art critic, Victoria Gail-White, called her "a master when it comes to putting together the most unlikely things in a humorous way."
Elsha is the author of Don't Trip over the Garden Hose (Deuxmers 2013), a book of impulsive autobiographical poems. She has performed her poetry and stories at many events, including the Annual Hawai`i Talk Story Festivals and the Contemporary Museum's "Art Off the Wall" improvisations. Her stories and images have been published in various art and literary journals and anthologies.
Having lived through World War II as a child, she gathered the childhood stories of six of her artists friends who survived the war in different parts of the world. Their stories became "War Child," a 2003 art exhibit and reading. "War Child" was broadcast on Hawai`i Public Radio and published in the Spring 2005 edition of Bamboo Ridge Journal of Hawai`i Literature and Arts.
In 2015 Elsha left Hawai`i to join Mark W. Travis in teaching The Travis Technique to film professionals around the world. She co-founded the Travis International Film Institute (TIFI) with him and serves as executive producer, program director, and casting director. Mark and Elsha are currently developing a series of documentaries on The Travis Technique.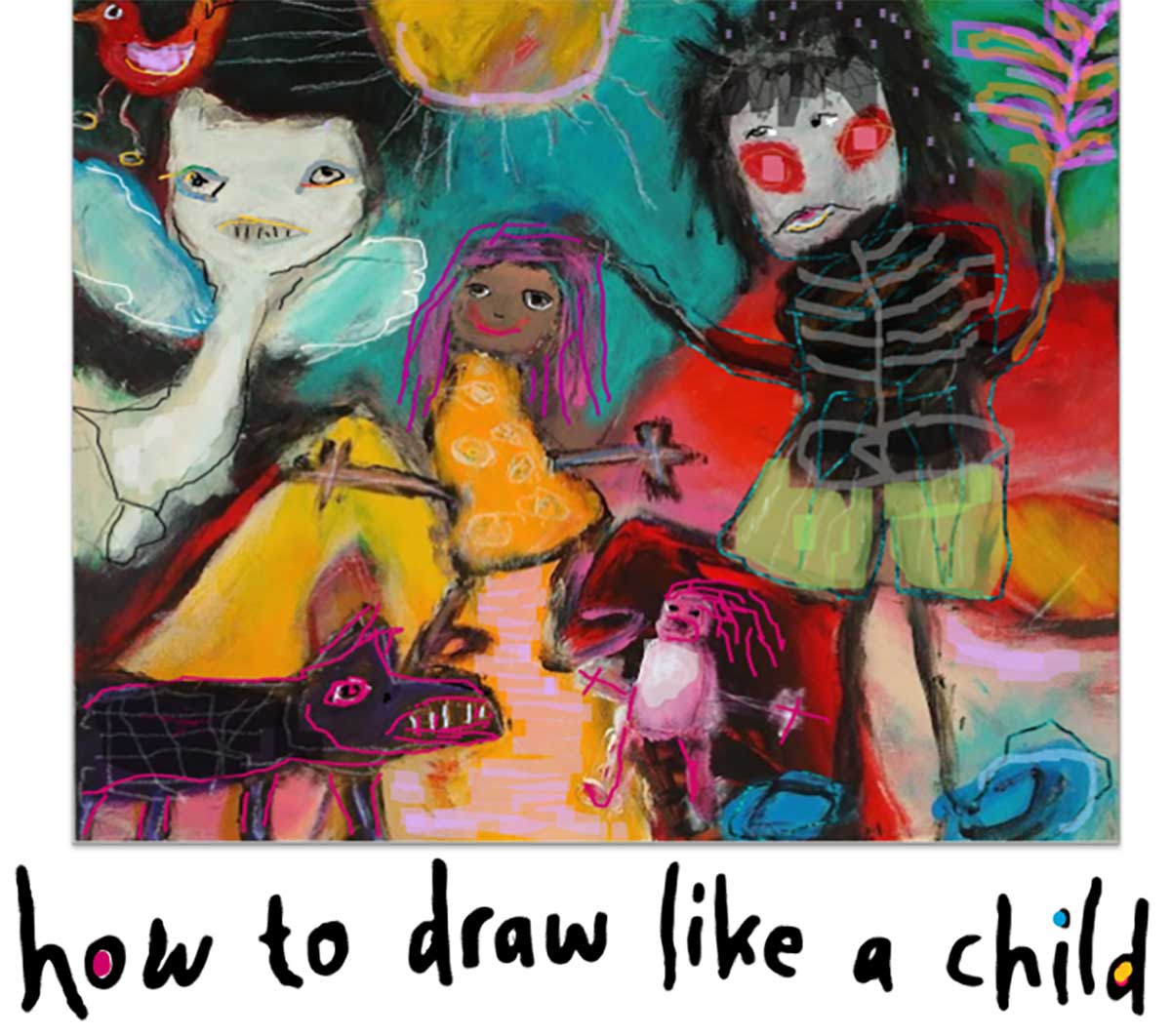 To draw, you must close your eyes and sing  – Pablo Picasso
Draw, sing and write stories with Elsha
4 Sessions, 12:00 – 1:30 PM (Pacific Time US and Canada)
SCHEDULE
Session 1: Naming
Session 2: Dreaming
Session 3: Wilderness
Session 4: Magic
MATERIALS NEEDED
Papers, pens, crayons, acrylic paints
Scraps of paper and fabric
Mirror, scissors, and glue
Lyrics to your most favorite songs
More details to be announced later.
4-week online adventure with ELSHA TAYA TRAVIS
A course for artists and writers and daring creatives who wish to unravel time and write stories as simple as breathing – and as miraculous. 
You'll need junk papers, paints, pens, found objects, dirt, debris, and more…
One of my friends, an indigenous Filipino healer, told me about a woman who had become ill after moving to an area where she felt abandoned. His suggestion to her to take a smidgen of earth and respectfully ingest it, lit up a memory in me. Ingesting earth to heal some inner estrangement… There's something ancient, wise and primal about that.
And here's something from Stephen King: "I never think of stories as made things; I think of them as found things. As if you pull them out of the ground, and you just pick them up."
Join me in pulling stories from the dirt around us and inside us. Let's swallow their magic, roots and all.
Elsha
Details to be announced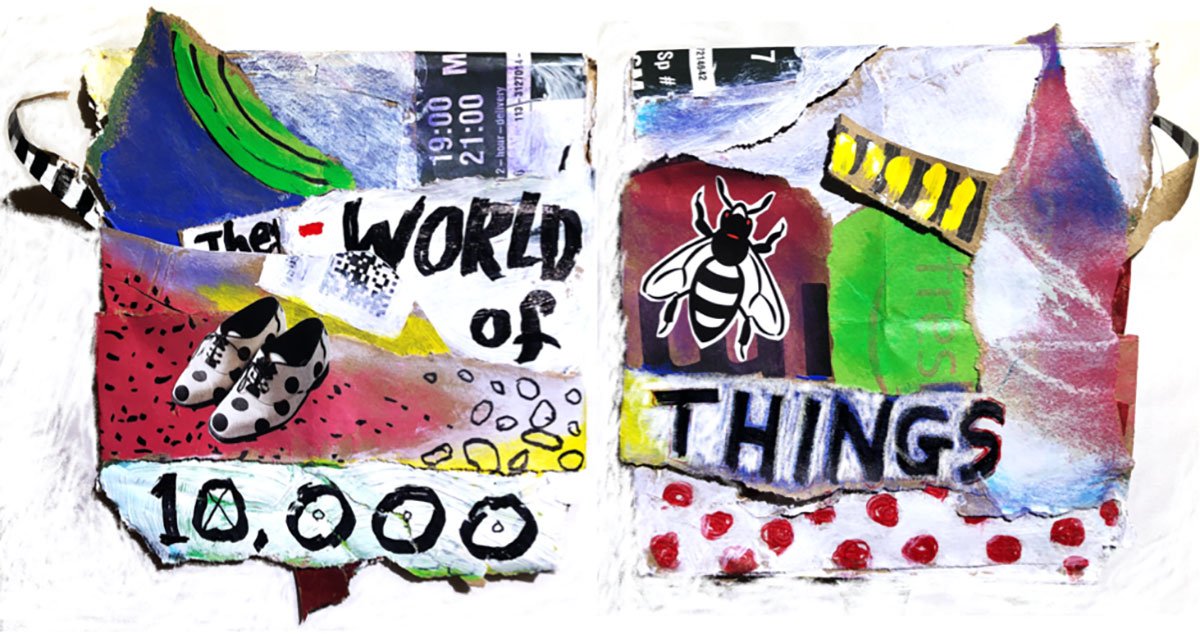 A 4-week adventure into IMAGINATION, HEALING and the ARTS
With ELSHA TAYA TRAVIS
"The World of 10,000 Things" is about becoming that which you hardly believe you are.
Ask new questions. Draw new stories. Write new pictures.
Moon pulsing in your hands and your mind so big, a plane can fly in.
MATERIALS NEEDED
Junk papers (newsprint, paper grocery bags, cardboard, etc.)
Pens and markers in different colors
Old T-shirts, old clothes, fabric scraps
Scissors, spray bottle, vinegar, water
Glue or glue stick, tape, twine, ribbons
Metal things (safety pins, steel wool, screws, nails, etc.)
Found objects, twigs, stones, odds & ends
More details to be announced.
I came to the arts late, ignorant, and bonkers about using found objects to make art: rags, junk mail, grocery lists, bottle caps, kitchen tools, dolls, machine parts, old keys, shoes… whatever I found in the street and on the beach.
One Monday, I invited some friends to come over to have fun and make "bad art." I had no idea what that would open up in me.
"Bad Art Monday" became about a lot of things, like dropping the need for control and for making "good" art that is marketable and will be accepted in juried art shows, etc. It's about going into unfamiliar and awkward places, about putting paint on paper and letting it rip, destroying what could be considered "precious." And it's a lot about being with friends, responding to each other's work, eating "Bad Lunch," and becoming fearless.
It's what I still draw on in life and in making art.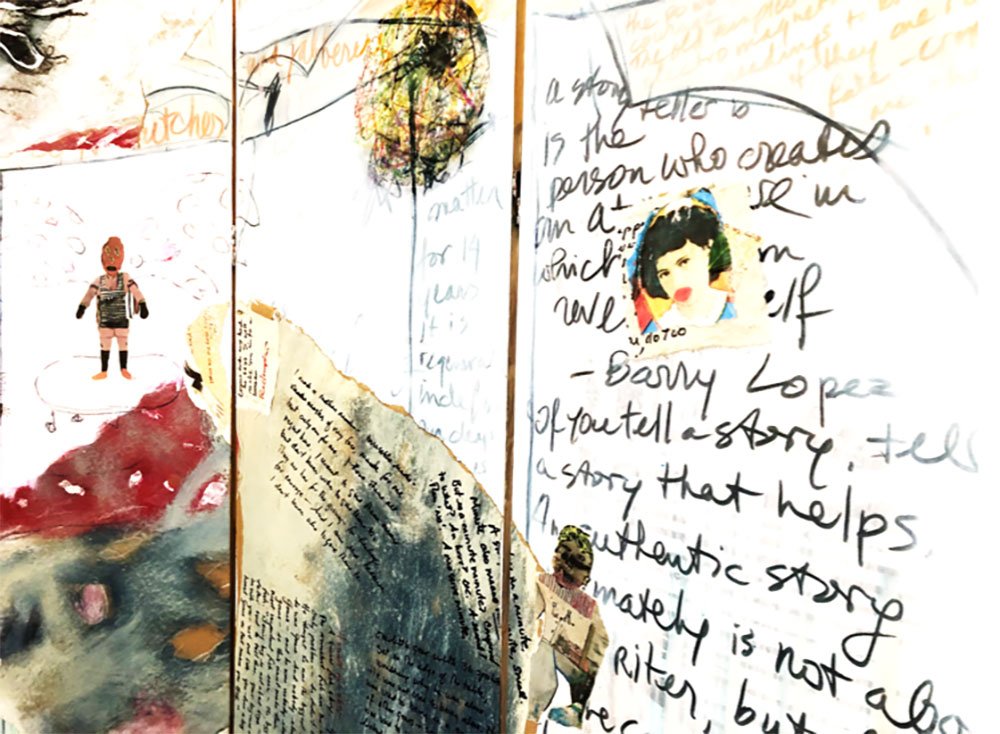 Elsha Taya Travis, "Travel Stories" (2021) Mixed Media Assemblage on Canvas (detail)
"Do you believe in magic? It is in this webinar. We went deep; we were on fire; we emptied out our heads and opened our hearts. It was safe, healing, and good. Astonishing, really. We crossed over our own boundaries, we laughed and cried, we flew into another dimension. Thank you, Elsha."
"My heart's so full. You, Elsha, continue to change my life."
"Elsha has a rare gift in her ability to provide a safe space in which to open up and examine one's greatest fears or losses and, while fostering acceptance, guides you towards transforming them into beautiful words, images and shapes. A healing and wonderful experience!!"
"Thank you, Elsha, for the wonderful experiences. I can honestly say I have been "Shaken" and mean that in the most wonderful of ways. I also want to thank the entire group for the ability to share so honestly and in such a trusting environment."
"Aloha Elsha. Well, I've gotten my money's worth! Seriously. I'm startled, shaken from my tracks, from what's emerged from the first class. So I just wanted to say, again (and again and again) how deeply grateful I am for you being in my life – and how deeply moved I am by who you are and what you (magically) do. I came to this workshop innocently, thinking, oh, it will be JUST a fun drawing and writing class. But between all your deep questions, commentary, and poetry AND the blind contour drawing, something happened. To my utter shock and surprise, my portrait was incredibly beautiful to me (in a million years I never ever expected to feel that way) and its message was literally "there is a deep, hidden sacred beauty that is you, always there, emanating always."  It rocked me. All day I felt it, on the verge of tears…"
"Elsha, thank you for this very special, unusual and incredibly touching webinar. It still reverberates in my soul. I never thought that something like this is possible online."
"If you want to enrich your creativity and open a new door, this webinar is a wonderful guide. Elsha magically holds the space and guides you through exercises that absolutely enhance creativity. I didn't know how deeply this workshop would touch me; another layer of self-doubt flew away."
"Powerful for the soul in search of unlocking buried creativity and unleashing self-healing."
"Elsha, thank you for that wonderful experience. You create an atmosphere of safety that is essential for taking the kinds of artistic and personal risks involved. I'm delighted and inspired by how much you are obviously enjoying yourself!"
"You and Mark have given me so much love, courage and tenderness, I feel so spoiled. It is as if my reason of being is suddenly acknowledged…somehow, some way. The other students were also so dedicated and verbally developed, and I could see there is the sun in your part of the world. I did expect the course to be good, of course, but what I meant is that in these weeks it has really done a lot more to me… I cannot describe what it is yet. For now, it's a recognition, an energy, an accepting all together, like being in a pressure cooker… something like that, and I hope it explodes and when it does… Oh-oh, who knows. Thank you!"
"Elsha's exercises sparked my imagination and shattered walls, walls I didn't know I had, allowing me to find new ways to play with words and images about life's important questions."
"The class has taken the lid off my self-containment and restraint. It opened up for me the terrain of possibilities and I found myself tiptoeing into the waters. Listening to the other members, their experiences, reflections in response to Elsha's very provocative (!) prompts, their conversations with each other, has shaken me up to see how able/reluctant I am to be open and naked in my explorations in writing and sharing."
"Elsha, I am so very grateful for you and your webinar! It has been the greatest gift of this year for me. It has given breath to my soul, truly! It has opened me up and awakened my heart and soul… which are still in major gratitude mode!"
"Elsha, being with you all in this has allowed me to explore corners within where I don't often go, even when "working" with art! Yet even more rewarding than my own personal expression however has been to tune in to and listen to you and all the participants, the depths we share, the paradox of variety and sameness. It is breathgiving and worth every penny and every nano second. It has helped me open myself again to approaching art and self-expression in a way I haven't really done since I was living in an ashram. You have all my gratitude and I look forward to interacting again!"
"Lord love us all!  With all our fabulous imperfections!"