Travis International Film Institute
MARK W. TRAVIS and ELSHA TAYA TRAVIS
Founders and Directors
Directors, Actors, Writers, Storytellers
Are you ready for your characters to spring to life and let your stories soar?
Embolden directors, actors and writers in the art of fearless storytelling.
Advance the creation of powerful, imaginative, character-driven stories and films.
Help unleash the magic, brimming inside the stories you've been carrying around forever.
Create a more beautiful world through stories that matter.
developed by director Mark W. Travis, is a transformational approach to Story, Characters, and Scene.
For Directors it offers a way to go beyond traditional directing and venture into inspired and impactful collaboration with the characters.
Writers learn to engage with their characters up-close, live, and in person.
Actors get to step back and allow their characters to fully emerge from within.
If you want to write a good story, write about what you don't want others to know about you.
If you want to write a GREAT story, write about what you don't want to know about yourself.
"50% of directing has nothing to do with directing. It's psychology. You're handling a crowd of gifted film professionals who each come with their own personal issues, insecurities, traumas, ambitions and hidden agendas. Besides keeping your own garbage in check, your job is to inspire them all into creative collaboration, keeping in mind that the only thing that matters is what ends up on the screen."
~ Mark W. Travis, The Film Director's Bag of Tricks
"We're all kids, creating our stories with whatever washes up from our primordial seas."
Elsha Taya Travis, Don't Trip Over the Garden Hose
The 3 Components of The Travis Technique
Mining Autobiographical Stories for Their Emotional Truths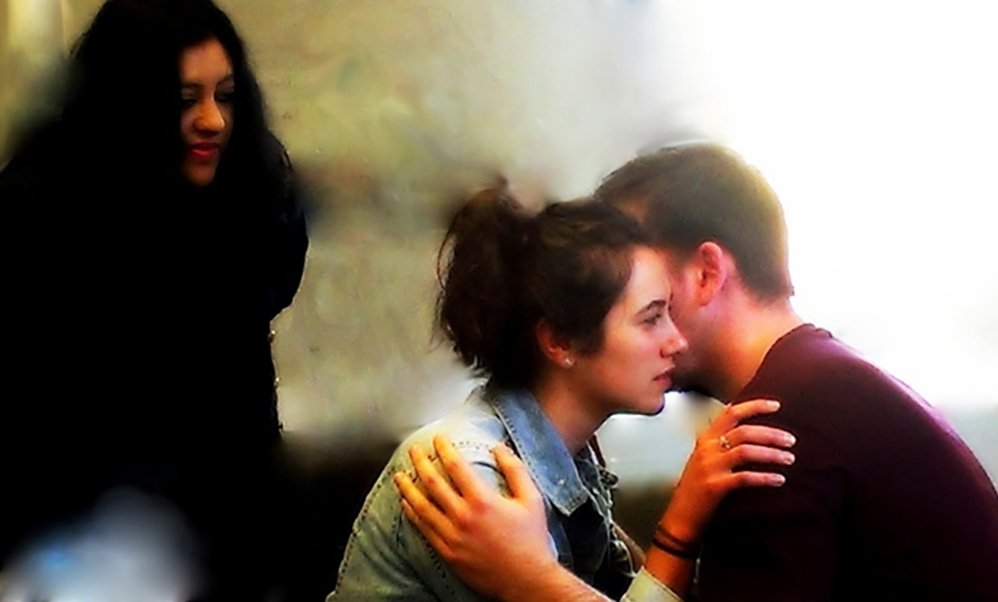 Whether you're writing fiction or nonfiction, you must understand your characters well, especially your protagonist. But when telling an autobiographical story, the protagonist is you. It is your own chaos and complexity that you have to reveal. This is much more challenging and riskier than other forms of storytelling. "Write Your Life" offers incisive Travis Techniques to help you reveal your truth – scene-by-scene, moment-to-moment. Mining the depths of your own life stories will help you master the art of shaping any story into a compelling and emotionally engaging journey. "Write Your Life" is the foundation of The Travis Technique.
Life is messy and our hearts get wounded. So we carry on with breastplates cobbled together from stories and events remembered, invented or dreamed. If you want to move people's hearts with your films, art and books, reach under your own breastplate first and bring out what you've been protecting there all your life. You'll be in wonder at the pain and beauty that have been waiting patiently to be released. Now your stories will gain the wisdom, magic and inspiration that the world hungers for.
"I learned more about my characters in one hour of consultation with Mark than in 9 years of writing my 35 novels."
2. CHARACTERS: The Interrogation Process
Working with Actors to Generate Authentic Characters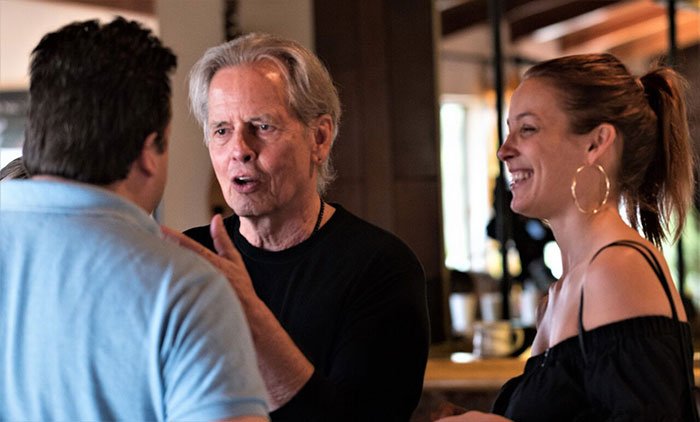 Often the Director/Actor relationship is hampered by the discomfort and tension of result directing. The Interrogation Process opens the door for actors and directors to ignite the Character together, turning tension and discomfort into curiosity and adventure. With the Interrogation Process, directors can achieve instantaneous and deeply-felt performances consistently, even on tight schedules and tiny budgets.
The Interrogation Process is about how to get the performance you want without ever asking for the performance you want; it's about how to get the performance you want even if you don't know what performance you want, and then getting floored by a performance beyond your wildest dreams.
"Mark Travis' Interrogation Technique is not only the finest gift ever given to me by another director, it's one of the finest gifts anyone has given me – ever!"
"Mark Travis' brilliant insight into how the director can draw great, natural performances from his or her actors, widely known as the Travis Technique, is an absolute must for every professional and up-and-coming director, actor, and writer. I highly recommend it."
3. SCENE: The Power of Staging
Stimulating the Emotional State of the Characters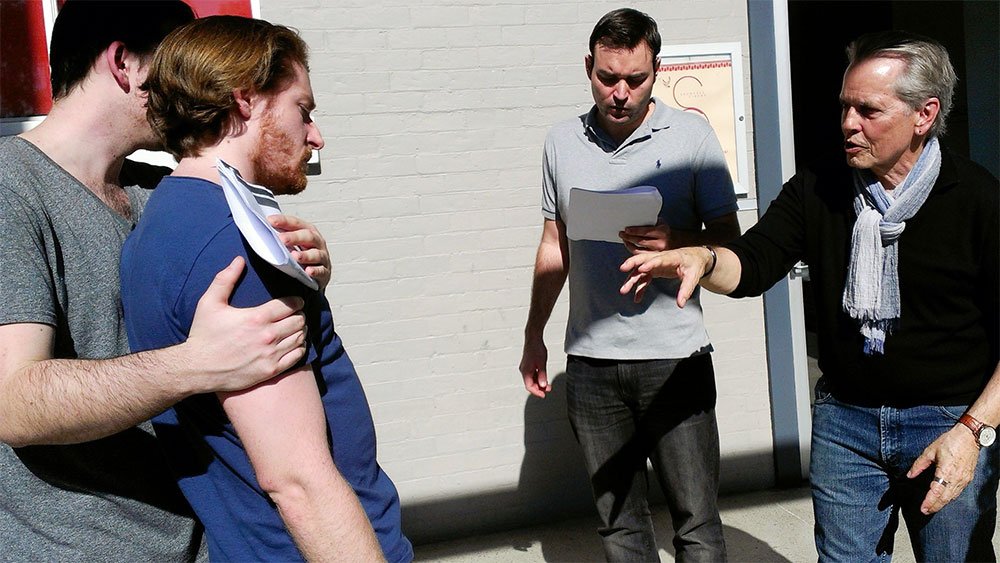 Staging (also called blocking) may be the most powerful, non-invasive, non-improvisational directing tool available. Unfortunately, it is also one of the least understood and frequently misused tools. The Travis Technique of Staging offers powerful ways to inject scenes with the obstacles and tensions that will generate the range of emotions you want your characters to experience.
"These classes have been eye-openers for me and have ignited a new spark. Mark's technique along with the (at times) 'scary' exercises from Elsha – are allowing me to dig the scalpel deeper and move on past the surface of Directing & Storytelling."
"Every minute of that tremendous week was enlightening, exciting, enthralling! Mark taught us, challenged, praised. Stretched and inspired us. His expertise added greater depth and beauty to my scenes. I left that training room more confident, more empowered and more in love with filmmaking than ever!"
Training in The Travis Technique
Mark W. Travis, founder of the revolutionary Travis Technique, teaches directors how to address the character, not the actor, and create instantaneous and authentic performances that translate brilliantly onto the screen. Winner of over 30 directorial awards, Mark Travis has taught his radical approach to directors, actors and writers in over 50 film schools and film organizations around the world. His workshops, webinars, master classes and consultations focus on all stages of filmmaking from pre-production to production and post-production.
The TRAVIS INTERNATIONAL FILM INSTITUTE is the ONLY place in the world where you can get training in the extraordinary TRAVIS TECHNIQUE, developed by Mark W. Travis.
Fearless Storytelling
Meet Your Characters
Empower Your Staging
Directing Feature Films
The Director's Bag Of Tricks
And much more…
Training in The Travis Technique is offered through:
"Mark Travis sure can teach. Don't know why he's not running the TV directing world"
"Mark understands that the director is quintessentially a storyteller. He knows what it takes to shape a compelling film."
"I've been an actor for almost 60 years, worked with many directors: Josh Logan, Sidney Pollack, Robert Altman, Stuart Rosenberg, Sidney Fury, and many others. Mark Travis has directed me in several projects and he is far and away my favorite director."
Nothing has resonated with me as much as Mark's method to obtaining organic, authentic performances that truly grab audiences. My expectations for the course were deeply surpassed. The clarity, emotional intelligence and passion with which Mark and Elsha taught the course made this workshop one of the most enlightening academic experiences of my life. Beyond the technical aspects of it all, Mark and Elsha's patience and humanity is what makes this a unique learning experience. Nothing is more fulfilling as a director than to see how Mark's techniques affect and alter a character's reaction, an actor's 'performance.' I will make sure to continue practicing and perfecting his method in the years to come.