The Art and Alchemy of Directing
Filmmakers around the world regard Mark W. Travis as the most outstanding teacher and consultant on the art of film directing. Fueled by the desire to generate organic and authentic performances in an instant, Mark developed a director-centered approach called The Travis Technique, which earned him the nickname, "the director's director." The Travis Technique is not limited to filmmakers; it has also proven to be an essential set of tools for writers and actors and all who wish to tell compelling stories.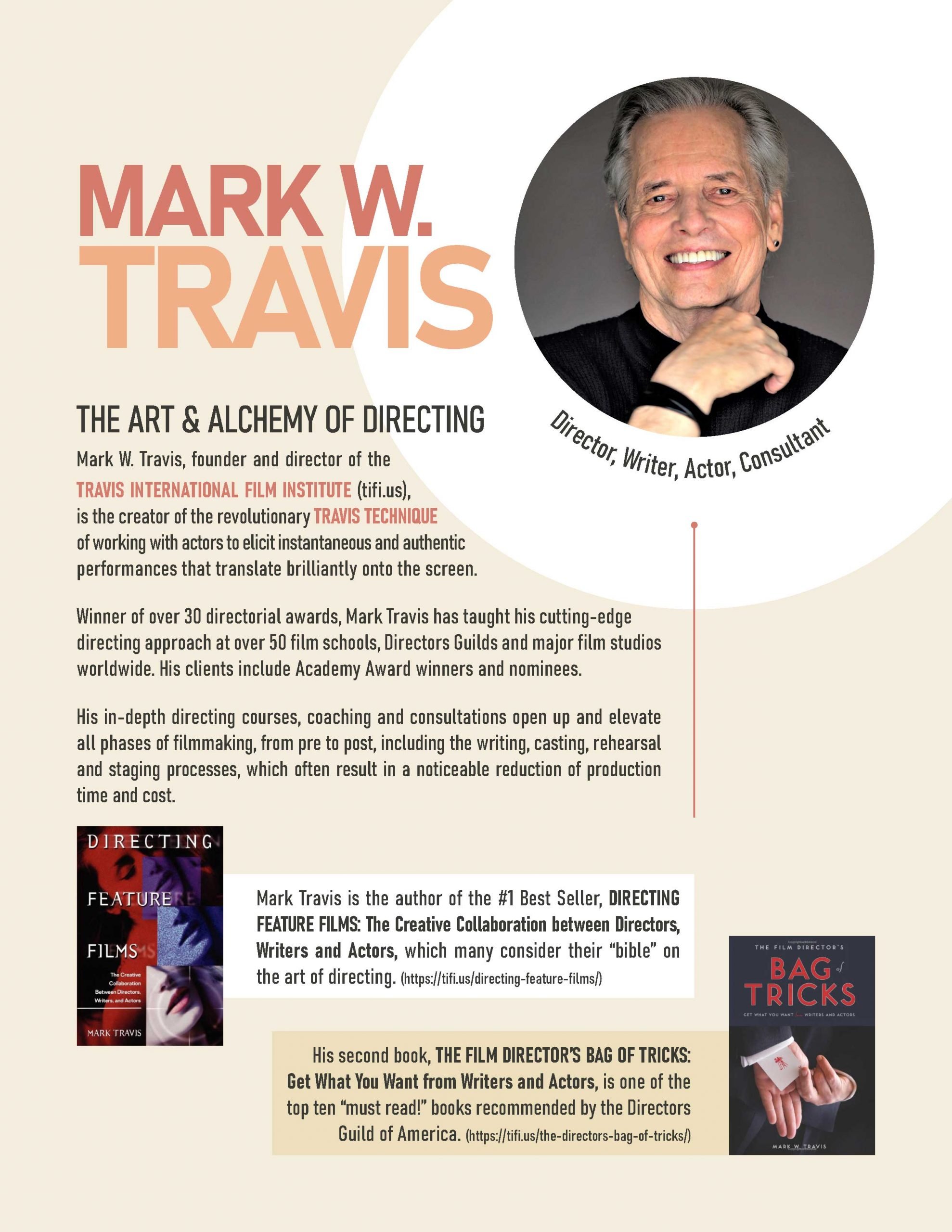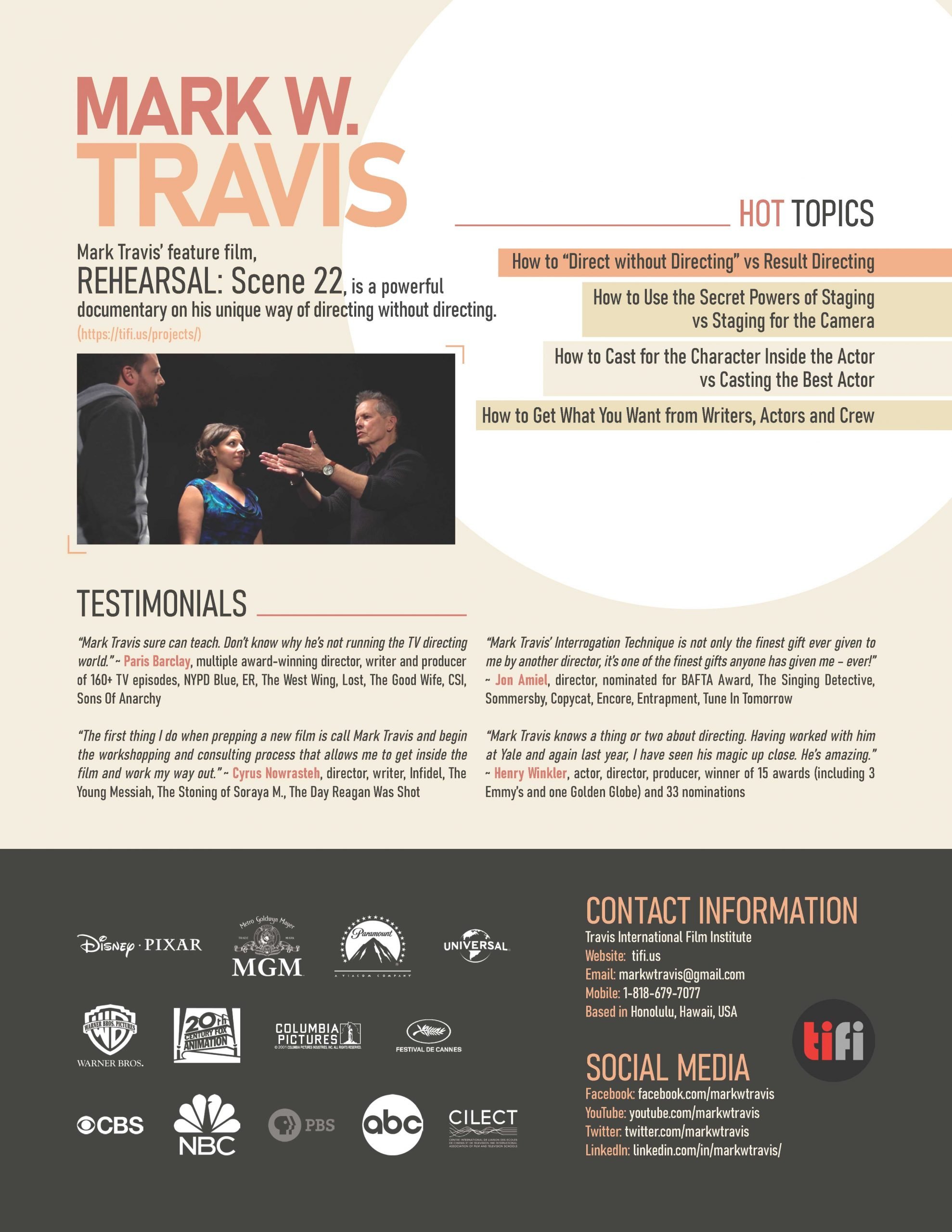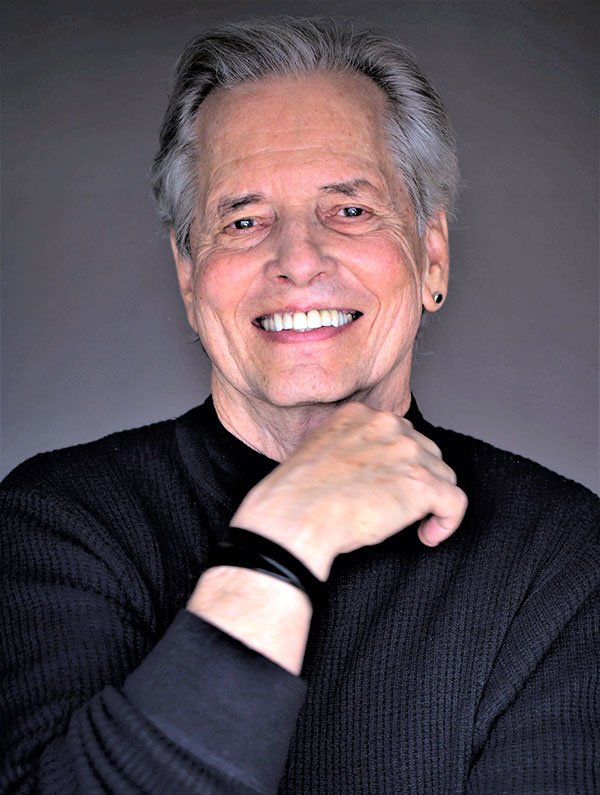 Mark Travis has impacted and continues to impact filmmakers worldwide with his live and online webinars, master classes and directors labs on different aspects of The Travis Technique.
FACULTY
Mark Travis has served on the faculty of:
University Of Television And Film in Munich, Germany (HFF)
The Binger Film Lab in Amsterdam, Netherlands
Hollywood Film School in Kyiv, Ukraine
Asia Pacific Screen Lab, hosted by Griffith Film School in Brisbane, Australia
FILM SCHOOLS and FILM INSTITUTIONS
Mark Travis has taught at over 50 film schools and film institutions, including:
Pixar University in Emeryville, CA
American Film Institute in Los Angeles, CA
University of California Film School (UCLA) in Los Angeles, CA
Griffith Film School in Brisbane, Australia
FÁS Screen Training Ireland in Dublin, Ireland
NISS – Nordisk Institutt for Scene og Studio in Oslo, Norway
Norwegian Film School in Lillehammer, Norway
Odessa International Film Festival in Odessa, Ukraine
Alexander Mitte Film School in Moscow, Russia
Metropolitan Film School in London, UK
Cannes Film Festival in Cannes, France
CILECT International Association of Film and Television Schools in Munich, Germany
Asia Pacific Screen Lab, hosted by Griffith University Film School in Brisbane, Australia
Chinese Film Foundation in Tianjin, China
DIRECTORS GUILDS
Mark Travis is a longtime member of the Directors Guild of America and has the distinct honor of having presented master classes on The Travis Technique at five Directors Guilds:
Directors Guild of America (DGA) in Los Angeles, USA
Dutch Directors Guild (DDG) in Amsterdam, Netherlands
German Directors Guild (BVR) in Munich, Germany
Australian Directors Guild (ADG) in Brisbane, Australia
Directors and Editors Guild of Aotearoa New Zealand (DEGANZ) in Auckland, New Zealand
ONLINE COURSES
Mark Travis' growing library of online courses include:
Write Your Life Inside Out
The Travis Technique Of Directing
Deconstructing The Interrogation Process
The Power Of Staging
The Art And Alchemy Of Staging
The 3 Best Kept Secrets For Creating Compelling Characters
The Travis Technique For Actors

The Travis Way of Working with Child Actors
Mark Travis has served as a directorial and creative consultant to Mark Rydell, George Tillman, Cyrus Nowrasteh, Tammy Davis, and dozens of Independent filmmakers in Hollywood and internationally. He is respected and recommended by top actors such as Beau Bridges, Henry Winkler, Jim Beaver, Bill Pullman, and others.
Most recent consulting projects:
OBLIVION – Writer-Director Shaheen Dill-Riaz (in development)
BLACKBERRY WITTOL – Writer-Director Devin Clarke (in preproduction and production)
FINDING HOME – Writer-Director David English (in post-production)
SARAH'S OIL – Writer-Director Cyrus Nowrasteh (in preparation)
BAHARA – Writer-Director Daniela Apostoaei (in preparation)
AYAHUASCA – Writer-Director Diego Silva (script)
MY LOVELY SHAME – Writer-Director Kathrin Feistl (manuscript novel)
UNDER MY SKIN – Writer-Director Anna Ditges (script)
JUPP & TRUDI – Writer-Director Anna Ditges (script)
HUNTING SOULS (2021) – Writer-Director Diego Silva
THE UNSPOKEN BADGE (2021) – Writer-Director Carl Flood
THE OTHER ME (2019) – Writer-Director Giga Agladze
WINTER ON FIRE: Ukraine's Fight for Freedom (2016) – Director Evgeny Afineevsky. Nominated 2016 Academy Awards for Best Documentary, Feature
THE YOUNG MESSIAH (2016) – Writer-Director Cyrus Nowrasteh
BORN TO DANCE (2015) – Director Tammy Davis
PERFECTION (2015) – Writer-Director Benedikt Röskau
VERDIGRIS (2015) – Writer/Actor Jim Beaver
DOCUMENTARY on THE TRAVIS TECHNIQUE – Director Stefan Najib (Shot over the past three years and presently in post-production)
MY MISTRESS (2014) – Director Stephen Lance
NOTORIOUS (2009) – Director George Tillman, Jr.
THE STONING OF SORAYA M. (2008) – Writer-Director Cyrus Nowrasteh
BLACK IRISH (2007) – Director Brad Gann
BARBERSHOP (2005) – Director Tim Story
THE DAY REAGAN WAS SHOT (2001) – Writer-Director Cyrus Nowrasteh
MEN OF HONOR (2000) – Director George Tillman, Jr.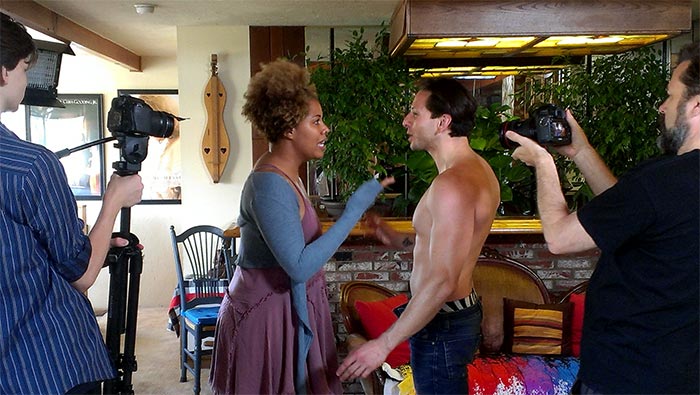 Directing Film / TV / Theater
Productions directed by Mark W. Travis have garnered over 30 major awards, including: an Emmy, Drama-Logue, L.A. Weekly, Drama Critics' Circle, A.D.A, and Ovation awards.
His film and television directing credits include: The Facts of Life, Family Ties, Capitol, Hillers, and the Emmy Award-winning PBS dramatic special, Blind Tom: The Thomas Bethune Story. Also the feature films Going Under (for Warner Bros. starring Bill Pullman and Ned Beatty), Earlet (documentary), The Baritones, and The 636.
On-stage, over the past 20 years, Mark has directed over 60 theatre productions in Los Angeles and New York, including: A Bronx Tale, Verdigris, The Lion in Winter, Mornings At Seven, Equus, Café 50s, And A Nightingale Sang, Wings, Linke vs. Redfield, The Coming of Stork and others.
Developing and Directing Solo Shows
Since 1988 Mark has developed and directed numerous autobiographical one-person shows. Sylvie Drake of the Los Angeles Times stated that "Mark Travis has created a whole new theater genre."
I Am Sophie (Corinne Shor)
Are We There Yet? (Richard Stockton)
This Being Human (Sheila James)
Pay Attention (Frank South)
Time Flies When You're Alive (Paul Linke)
No Place Like Home (Shane McCabe)
A Bronx Tale (Chazz Palminteri)
Undressing New Jersey and Other States of Mind (Wendy Kamenoff)
Twice Blessed (Art Metrano)
Insomnia (Dana Gould)
Mouth to Mouth (Carol Schlanger)
Something In Her Genes (Juliette Marshall)
They Call Me Mr. Fry (Jack Freiberger)
Once A Man Twice A Boy (Joe Lucas)
The Dangerous Lure of High Heels (Robin McAlpine)
Cabin Fever (Erin Donovan)
Driven to Drink (Paul F. Tomkins)
What Does The Sun Sound Like? (Arlene Malinowski)
Margarita On The Rocks (Peggy Medina)
Wild Wisdom (Jeannette Paulson Hereniko)
Hip Bones and Cool Whip (Rochelle Newman)
Walking Back to Brooklyn (Murray Meyer)
Almost Made (Louis Liberti)
Fornicationally Challenged (Judi Brandwein)
Hooked (Bailey Mason)