After an exhilarating 6-week journey excavating the secrets buried in the "ART & ALCHEMY OF STAGING" course with 52 directors, actors and writers in 17 countries, Travis International Film Institute is excited to present Mark Travis' next adventure, the FREE master class…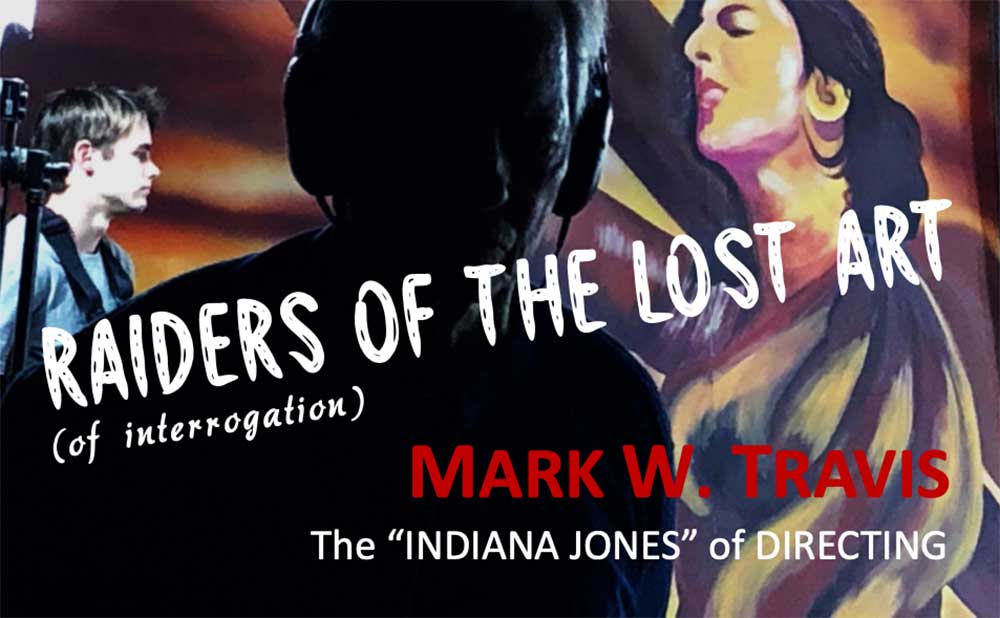 FREE Master Class for Directors, Actors and Writers
Saturday, September 24, 2022
11:00 AM – 12:30 PM (Pacific Time)
THE INTERROGATION PROCESS, developed by Mark W. Travis,
is a transformational approach to working with actors.
Often the Director/Actor relationship is hampered by the discomfort and tension of result directing. The Interrogation Process opens the door for actors and directors to ignite the Characters together, turning tension and discomfort into curiosity and adventure.
The Interrogation Process is about how to get the performance you want without ever asking for the performance you want. It is about how to get the performance you want even if you don't know what performance you want, and then getting floored by a performance beyond your wildest dreams.
Travis International Film Institute is the only place where you can learn the Interrogation Process and Mark W. Travis (the "Indiana Jones" of directing) is the only director who teaches it.
So, grab your

hat

,

whip

and

wits

and follow the trail of the…

RAIDERS OF THE LOST ART (of Interrogation)

FREE Master Class for Directors, Actors and Writers
Saturday, September 24, 2022
11:00 AM – 12:30 PM (Pacific Time)
Bring your friends, family, team and crew along on this adventure. The more people know and understand what you're up to, the easier and more fun your work becomes.
If you can't make it for the live session, don't worry. All you need to do is request the replay.
"Mark's way of working with actors and his wisdom about the process of directing is extraordinary. His Interrogation Process has given me the foundation I need for my own work with actors. I have learned more in Mark's workshops than in all my years of experience as an assistant director."
–Annette Ernst, director, writer, producer
"This course is a POT OF GOLD."
–Theodore Carl Flood, director, writer, producer
RAIDERS OF THE LOST ART (of Interrogation)

FREE Master Class for Directors, Actors and Writers
Saturday, September 24, 2022
11:00 AM – 12:30 PM (Pacific Time)

Locations
Honolulu, Hawaii
Los Angeles, California
Prague, Czech Republic
Cologne, Germany
Auckland, New Zealand