Travis International Film Institute presents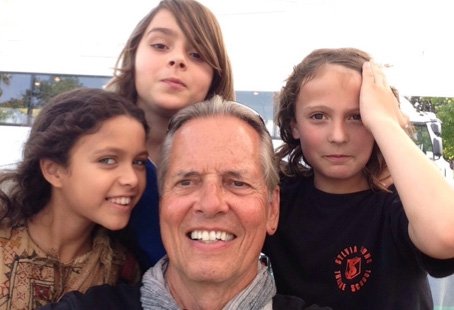 Mark Travis with Lois Ellington (9), Finn Ireland (13) and Adam Greaves-Neal (9) in "The Young Messiah"
4 Session Master Class
with
MARK W. TRAVIS
Saturdays, FEBRUARY 4, 11, 18, 25
10:00 – 11:30AM
(Pacific Time)
INTRODUCTION
Directing children on a film set can be a challenge. There is no guarantee that they will learn their lines, hit their mark, behave on set or give a credible performance.
In 2014, I was hired by writer/director Cyrus Nowrasteh (The Stoning of Soraya M., Infidel, The Path to 9/11) to work in production on his film "The Young Messiah." My job: Coaching the three child actors. No big deal, I thought. After all, working with actors is my specialty.
Was I in for a shock! During those three months on location in Italy, I faced challenges I had never encountered in working with adults. There were so many rules, regulations and time restrictions to protect the welfare of the child actors, that I often found myself forced to improvise some wild on-the-spot games and strategies to carve out a time and a place for working with the children and having them be fully prepared to do the scene.
The main problems I had to resolve were:
How do I keep the children from "acting"?
How do I keep the children engaged in the scene, moment to moment?
How can I work with parents and guardians and turn them into allies?
How do I form an intimate working relationship with the children when our time together is extremely limited?
Now, for the first time ever, I will teach the games and strategies that I successfully created to turn a rambunctious, iPad carrying, 9-year-old Adam Greaves-Neal into young Jesus, day after day after day. You will learn how 9-year-old Lois Ellington (who played Jesus' cousin Salome) became such an expert in Beat Sheets, that she even coached a highly experienced actress on the secrets of Beats. And how 13-year-old Finn Ireland (playing Jesus' adopted brother, James) became his own acting coach.
These young actors had their own preferences and quirks, strengths and weaknesses. Finding what worked best for each actor took some time but when we found the right approach, the results were magical.
When working with young actors, extra time is usually built into the schedule for rehearsal on the set, but Adam, Lois and Finn consistently arrived on set so well prepared that they became known as "first take" actors. Their proficiency raised the bar so high for everyone, crew included, that the adult actors had to be ready to perform at their best on take one.
What I developed for the children turned out to work equally well with adults, so that now it has become an integral part of The Travis Technique, along with the foundation of "Write Your Life," the "Interrogation Process" and the "Power of Staging."

is for Directors and Acting Coaches interested in …
Making the most of what little time they have to work with the child actors
Forming a deep and trusting working relationship with their child actors
Going beyond the generic approach of working with child actors by maximizing the creative imagination of each child
Helping the children to recognize themselves in the characters they are playing
Making sure that the children are ready to perform the moment they walk onto the set
CURRICULUM
Session 1:
Saturday, February 4, 10:00 – 11:30AM Pacific Time
THE JOURNAL: Turning the script into a personal journal, written from the character's point of view.
Session 2:
Saturday, February 11, 10:00 – 11:30AM Pacific Time
BEAT SHEETS: Giving the children playful ways of staying engaged.
Session 3:
Saturday, February 18, 10:00 – 11:30AM Pacific Time
THE HYBRID SCRIPT: Inserting subtext into every line of the scene to guide the children in feeling and thinking as the character, moment to moment.
Session 4:
Saturday, February 25, 10:00 – 11:30AM Pacific Time
STAGING: Keeping the children in character through their focus on micro and macro staging.

Fee: $597
Early bird special:
$497
($100 savings)
Early bird deadline:
January 21
Your discount code: WWCA100
Locations
Los Angeles, California, USA
Honolulu, Hawaii, USA